Wire sheave repair 2018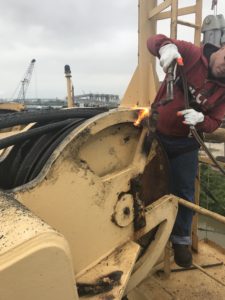 Here's how we removed and replaced 2 sheaves from a NMF DKII crane without removing the wires. All was done without any off-hire for the vessel and to the satisfaction of our regular customer.
Crane foot bearing exchage 2018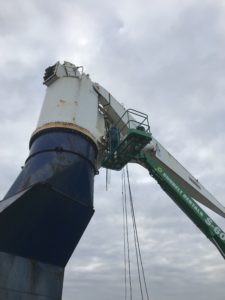 Together with our partners HMB Lintec Marine from Germany we successfully exchanged a crane foot bearing of a Liebherr crane at City Docks. The entire job took only 16 hours and the client was very happy with the turnover time.
Portable Crane 2017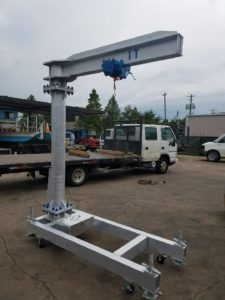 Alpha Mar was recently contracted by Enterprise Products to custom build a 1-ton Portable Jib Crane for their terminal operations.
The crane is one of a kind with Marine grade Aluminum construction for ease of movement due to its lightweight. The added stabilizers on the base of the crane can be used to lift the crane during operation to ensure that the crane does not move. The design, construction and testing were all done right here at Alphamar and is a testament to our company's teamwork and strict adherence to our client's needs.
Gangway extension 2017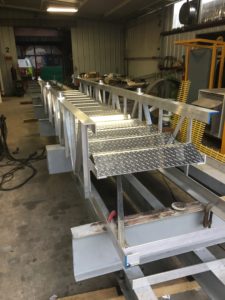 We have a wide stock of different gangways to purchase or rent. But we can also modify your gangways as you can see here as an example. Our client needed his 50 ft gangway extended to 60 ft. We do also test and certify them before delivery.
MacGregor crane hook repair 2017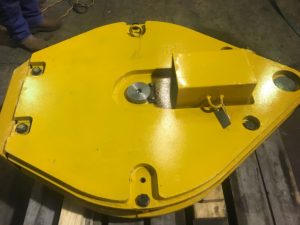 We did a full overhaul of a MacGregor crane hook in our shop. The repairs included fabricating of a new sleeve for the bearing, fabrication of a new pin and load testing with double of the SWL in the shop before delivery to our client MacGregor.
Port of Houston Bulkhead Sand Blasting and Coating 2016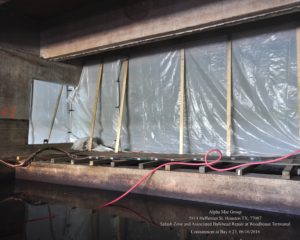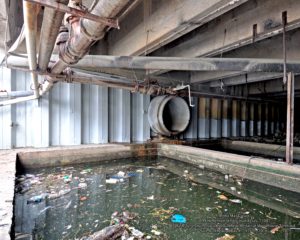 Alpha Mar successfully bid and got awarded the Port of Houston 2016 Splash Zone Painting and Associated Bulkhead Repairs at Woodhouse Terminal. Project consist of sandblasting, cleaning and coating the splash zone of more than 1,800 linear feet of bulkhead under wharf 1, 2 and 3 at Woodhouse terminal. Project was completed on time, under budget while meeting and surpassing all client's specs and inspections.
Maersk Drillship Cabin Refurbishment 2016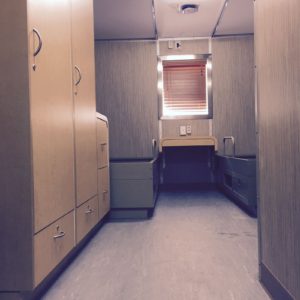 After one of the cabins on Maersk Drillship burned up due to a faulty computer charger, Alpha Mar Group was assigned to refurbish / recondition this cabin while the ship was still at sea. Pre-fabrication of furniture was performed as per clients standards and installation went through in less than a week, making this a successful on time, on budget project for both the client and Alpha Mar Group. (Picture shows cabin condition at 85% finish)
Main engine inspection 2016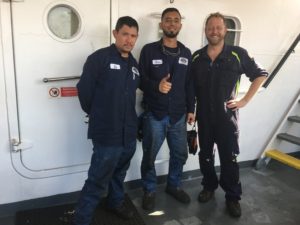 Our team pulled 5 pistons, measured them and installed them back within 3 days on a MaK M43 main engine at Manchester Terminals.
Telescopic Gangway Repair 2016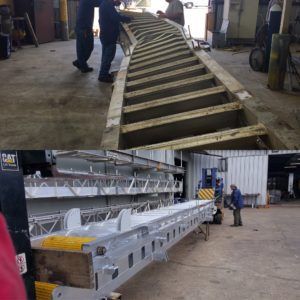 Last week we had a gangway in our shop for repairs. While other parties declared it as a total loss we got even more ambitious to show what's possible. Within 3 days we managed to repair this heavily damaged gangway and made it even look better than a new one.
Side Shell Repair Care Terminal 2016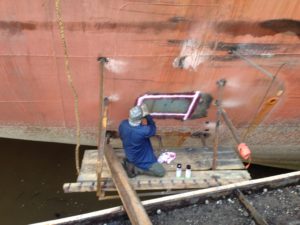 During the weekend we were called to repair a crack in the shell plating of one vessel. Our 24/7 response team deployed on short notice class approved welders and materials in order to make an insert 20" x 35". The team worked around the clock in order to acommodate the vessel's tight schedule.
Heating Coil + Shell Plate Repair Houston Anchorage 2016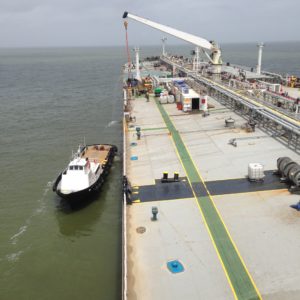 A lot of logistics and labor were involved in order to finish this job on time. 2 launch boats were travelling between Galveston and the vessel daily. The cargo tanks had to be cleaned and the heating lines to be pressure tested and repaired. Our highly qualified plumbers were able to replace and solder the special AL BR pipes and fittings. Another damage on the vessel's shell plate was also repaired during this time.
Maersk Semi Submersible Rig -Drop IN Platforms 2016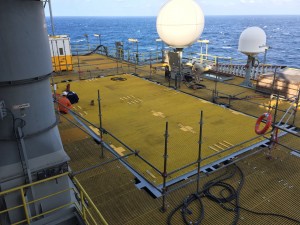 After removal of their secondary ROV, Maersk Offshore Semi Submersible Rig needed to find a way to cover the area with out losing the possibility to re install a secondary ROV on Board. Alpha Mar Engineers design and fabricate 4 Drop In Removable Platforms which gave the rig extra space having almost same structural capacity as existing deck with out losing future modification opportunities. Fabrication was perform in our structural steel shop minimizing end user cost with out compromising  precise fit up.
Painting hull of a tanker 2015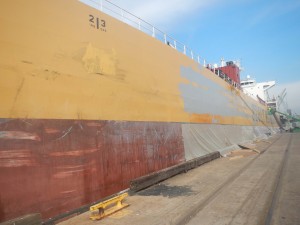 If you know how, the Port of Houston allows you to paint your vessel's hull. Here we just finished the complete PS of one tanker at City Docks with more than 32% power brushing, 2 coats of primer, one full coat of paint and repainting the logo. The job was carried out around the clock and due to favorable weather the complete job was finished within 2 days.
Maersk Drillship-Completion Bridges 2014/2015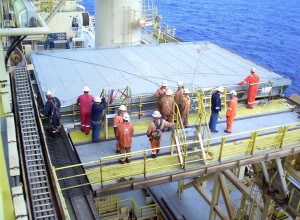 Maersk Offshore Drill Ship  required more space during their "completion stage" For which Alpha Mar - IMW Team Fabricated and install 2 - 25 Tons Completion Bridges to be fitted between BOP Gantry Crane Rails. High Tech Laser Measurements where taken by Alpha Mar - IMW Team to guarantee fitment. CNC Plate cutting was utilized 100% to ensure precision fabrication.
Maersk Drillship – Filterpress Piping 2015
Maersk Drillship needed to install two new filters on their pipe deck which required approximately 2,000 linear ft of new piping going from  port's mud pump room all the way to starboard on the pipe deck. Alpha Mar-IMW team went on board to perform this work while the vessel remain under standard drilling operations. Project was done as a design and built with critical delivery schedule. Some bulkhead penetrations had to be done to pass the pipe from one room to another, which was no big challenge for Alpha Mar-IMW having already work many times with different classification society fabrication codes. After job completion, job was inspected by ABS surveyors with excellent remarks from their part.
Propeller Straightening 2014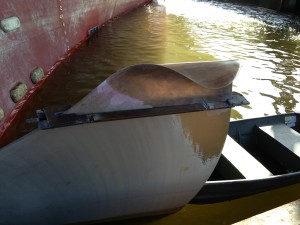 There are not many companies in the market who are able to straighten propeller blades. We were requested to straighten 2 propeller blades while the vessel was afloat under supervision of the class. With experience and know-how we straightened the 2 blades to save the owners an expensive dry docking and reduced the vessel's down time to a minimum.
Rudder stock repair on a laden vessel 2014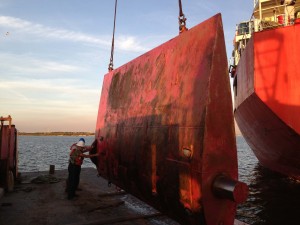 A chemical tanker hit the berth while leaving Houston after loading and damaged her rudder stock from the pintle rudder. The vessel was not allowed to discharge the same cargo in the States. We removed the rudder and stock in laden condition. The rudder stock was straightened and the rudder carrier and foundation machined.